geography + the future
Coleman McCormick
@colemanm
vp :: spatial networks, inc.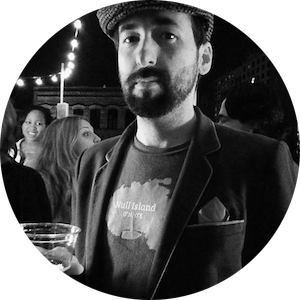 mapping products company
clearwater, fl
→ mobile software
→ geospatial data
→ maps!
using / making geo technology to solve problems + answer questions
some things we build:

data collection mobile app platform
fulcrumapp.com
Pushpin
an iOS app for simple, fast editing of OpenStreetMap
pushpinosm.org
over 60k edits to OSM
</intro>
enough about me
where we're headed in geo
✈
geo is ubiquitous
maps as default interfaces
people are location sensors
datastreams are geospatial
so geo is important
3 themes
collaboration + sharing
community growth
education
1.
new tools for collaboration
new tools enabling
new data
new users
new contributors
inviting active participation by community
GitHub
code collab platform
not just for code anymore
code →
documents →
data
version control →
content publishing →
data warehousing
clone → edit → pull request → merge
data becomes a living resource
not just a file download
distributed, versioned storage for map data

geogit shp import fire_hydrants.shp
# make changes in GIS
geogit add
geogit commit -m "Added new hydrants"
geogit push fire_hydrants_master
    
Lowering the bar for making / using geographic information
this is cool
smart + passionate people can volunteer help
gov't engaging citizens
(more on this later)
2.
community growth
geo is

spreading


to new industries
real estate
communications
sociology
humanitarian aid
communities are sprouting up, bringing new people into the fold
tampa
dc
nyc
these informal venues invite new people with an interest in geo
cycling, kayaking, hiking, skiing, hunting, running, camping
etc, etc
OpenStreetMap

→ community of millions of mappers

collaboratively building a map of the world
free to edit, free to use
OSM is democratizing spatial information
contributors get to make the data + use the data
making mapping
social
meetups
conferences
mapping parties
+ across the internet
burgeoning use in gov
expansion of the geo community
making GIS part of everyday lives
3.
education + geography
less about where geo is headed
but where we could + should be headed
let's make geography a part of education
teaching geo in
elementary, middle, high school
something is missing
what other tacks can we take to teach youth?
teaching with zombies
(+ improving OSM)
creative, unconventional approaches to teaching mapping
latch on to things kids can respond to
this is just scratching the surface
we're in a unique position to
capitalize

on new expansion of geo technology
thanks!
coleman@spatialnetworks.com

@colemanm